Description
AsiaTorrents.me / AsiaTorrents / AT – is the largest and the most popular Asian private tracker with movie-related content. Keep in mind that it is a tracker, which is full of video material basically from the East countries – Korean, Chinese, Japanese, HongKong, Thai, Hindi and other. Till January 2010, it was known under the name of Avistaz, but then the staff decided to change it to its current AsiaTorrents one.
The tracker URL:   https://avistaz.to/
It is worth to say that AsiaTorrents is an excellent tracker, specialised in movies, TV shows and music torrents gathered from all around Asia world. Currently the resource has collected a huge torrent-community: about 500 K registered users and a torrent database that counts around 33000 active torrents with a good ratio and speeds.
There are the 4 main section on the site. Movies – with torrents gathered from different countries (India, Japan, Korea, China, Singapore, etc). This is their main category, with a sub-division dedicated to HD content. TV shows – anime fans will be happy to hear that there is a special section dedicated to them. And also the usual Chinese, Korean or other Asian popular TV programs and a HD content sub-category. Music – you'll find plenty of Asian music from variety of genres as well. And the last XXX-Erotica one, which has a wide collection exclusive XXX material with hot Asian stars.
Categories of the tracker AsiaTorrents.me: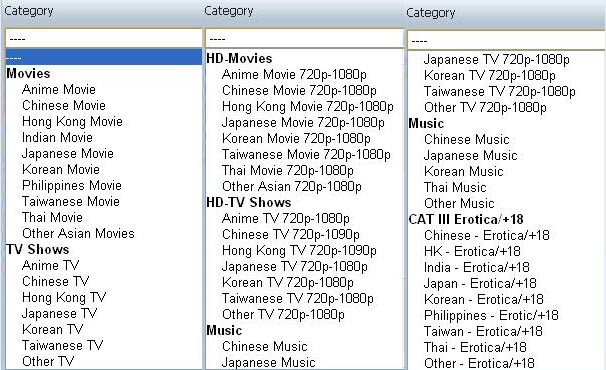 Invites to AsiaTorrents.me available for 40 $