Description
Watch is a Russian online resource for watching movies. The collection of films is really huge. Here is a library of dozen genres. Of course you get a high quality of material. Minimum quality starts from DVD with professional voice acting.

Watch.is/ Watch – is a great Russian free online theater for watching movies in high quality from DVDRip up to 720p. This resource contains the archive of more than 6,000 movies with professional voice acting. And importantly, there will not be accepted low-quality types like TS or CamRip, minimum quality starts from DVD. Watch.is includes a huge library of dozens of genres, some are new items of cinema and the best movie of the world classics that everyone should see.
To watch movies you can use online functional player. To get to the site you should have an invitation – invite. Currently on the site have been registered more than 50,000 unique visitors, that indicates about high level of popularity. After registration, the service does not require any subscription fees, it can be used indefinitely.
Genres of the site Watch.is: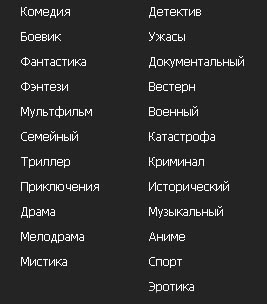 Invites to Watch.is available for 8 $